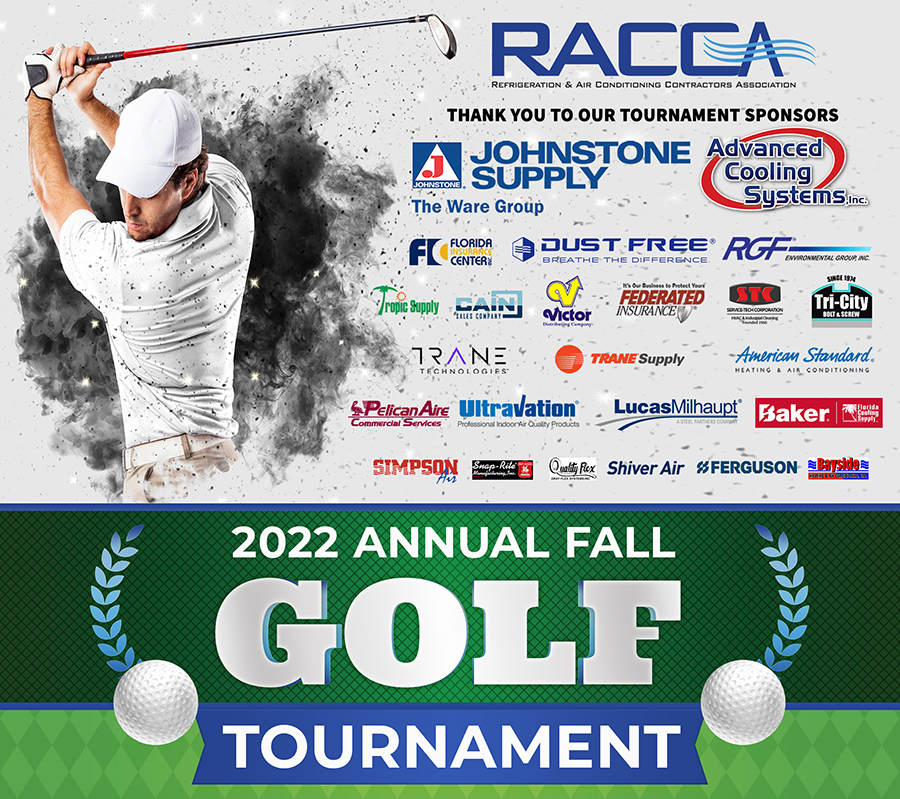 2022 ANNUAL FALL GOLF TOURNAMENT
Come on out and enjoy a day of golf with RACCA and fellow members of the industry.
Friday 11/18/2022 8am shotgun start at Westchase Golf Club
11602 Westchase Golf Drive
Westchase, FL 33626
$5 Mulligans ● Raffle Tickets 7 for $10 or 15 for $20
Registration is open and we have had a great response! A BIG Thank You to the sponsors we have participating already and please note we still have several awesome sponsor opportunities available or you can donate prizes/gift cards for the raffle.
**Please if you are not paying online still choose the "Pay VIA Check" button on this page and fill out the form so we get the names of your players, etc. You will not be charged, this is just our online form. You can mail a check in, be invoiced, or call us and pay over the phone, this just secures your registration.**
TEAM/INDIVIDUAL PRICING (Team and Individual registration includes golf fees, breakfast, lunch, snacks, 2 drink tickets, grab bags, entry into the Putting, Closest to Pin, Longest Drive contests).
Individuals $140 Early Bird Pricing | $160 after 11/4/22
Teams $560
SPONSORSHIP PRICING (All sponsor levels receive signage displayed at the event as well as recognition on event-related materials and the RACCA website. Tournament sponsors receive a free team registration, all sponsorships over $250 receive a free individual registration. Download Registration Form.

Tournament Sponsor SOLD Johnstone Supply, Advanced Cooling Systems
Lunch SOLD Trane Technologies, Trane Supply, American Standard
Beverage SOLD Victor Distributing, Bakers Distributing
Hole-in One SOLD Pelican Aire
Breakfast SOLD Ultravation
Carts (RGF, Tropic Supply,  2 sponsors needed) $300
Putting SOLD Florida Insurance Center
Closest to Pin (2 sponsors needed) $200
Long drive (Tri-City Bolt & Screw, 1 sponsor needed) $200
Trophy SOLD Service-Tech Corporation
Snacks (4 sponsors needed) $125
Hole (Ferguson Supply, Shiver Air, Bakers Distributing, Snap-Rite Manufacturing, Gray Flex Systems, 32 sponsors needed) $100