Guardians of the Industry
Since 1949 we have been your partner in the HVAC industry. With our roots in the past and our eyes on the future, we stand ready to provide the education and benefits you need to grow and maintain your successful business.

What is RACCA?
The Refrigeration and Air Conditioning Contractors Association Inc., founded in 1949, serves the entire Tampa Bay Area. Contractors, as well as other firms, with a direct interest in the air conditioning industry benefit by joining the Association. RACCA is an affiliated chapter of the state organization, Florida Refrigeration and Air Conditioning Contractors Association (FRACCA).
RACCA takes an aggressive role in promoting industry standards and professionalism. RACCA provides Continuing Education (CEU) courses for contractors and Apprenticeship Programs for HVAC/R Technicians.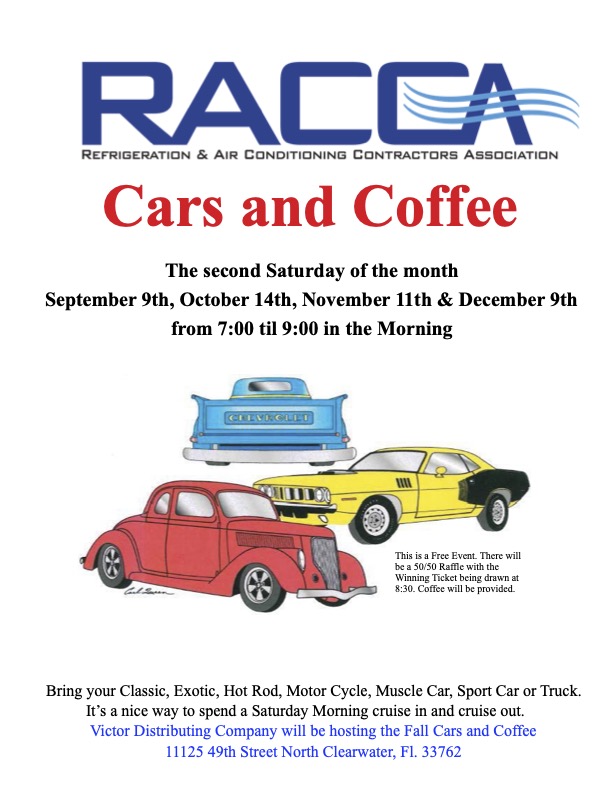 Join RACCA this fall for Cars & Coffee on select Saturday mornings from 7am-9am!

Location: Victor Distributing
11125 49th St. North, Clearwater, FL 33762
Date: Various dates throughout the Fall
Time: 7am-9am

Click the link below to view and RSVP to our upcoming Cars & Coffee events.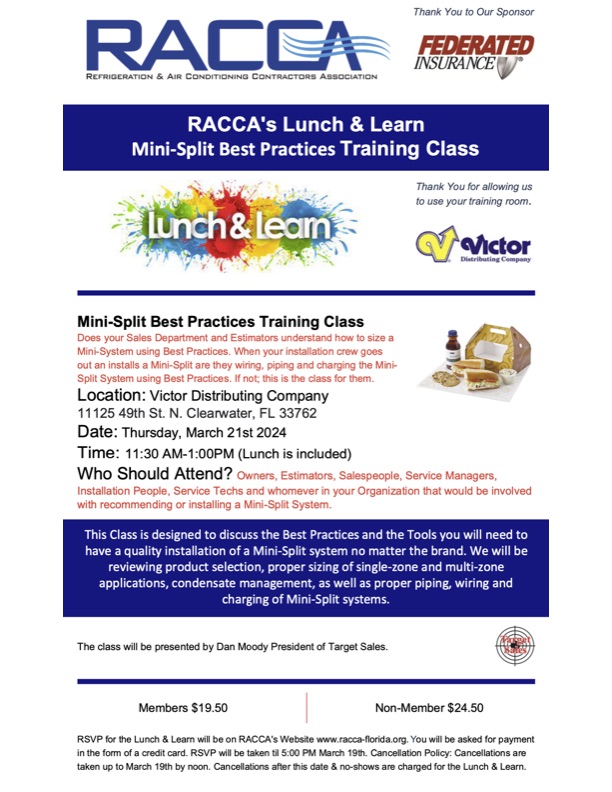 Does your Sales Department and Estimators understand how to size a Mini-System using Best Practices? When your installation crew goes out and installs a Mini-Split are they wiring, piping, and charging the Mini-Split System using Best Practices? If not, this is the class for them.
Location: Victor Distributing
11125 49th St. North, Clearwater, FL 33762
Date: Thursday, March 19th 2024
Time: 11:30 AM-1:00PM (Lunch is included)

Click the link below to register.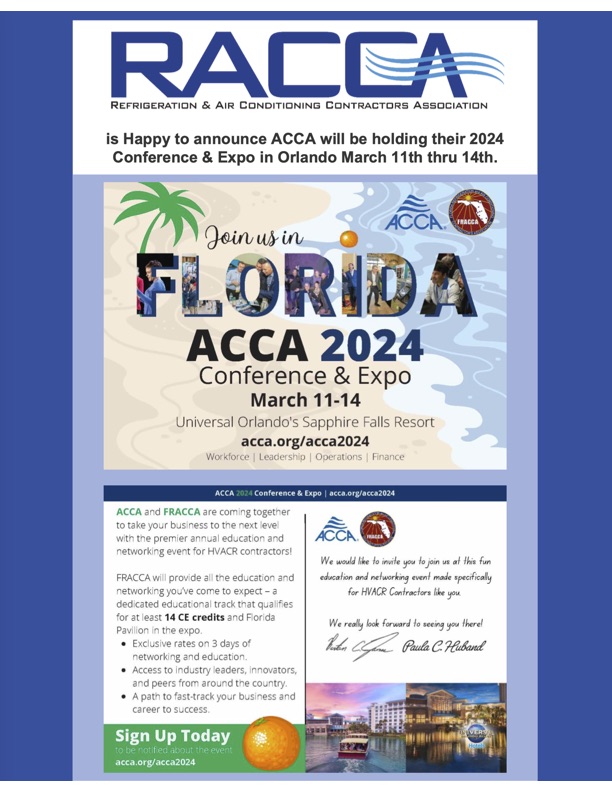 ACCA and FRACCA are coming together to take your business to the next level with the premier annual education and networking event for HVACR contractors!
FRACCA will provide all the education and networking you've come to expect – a dedicated educational track that qualifies for at least 14 CE credits and Florida Pavilian in the expo.
Exclusive rates on 3 days of networking and education.
Access to industry leaders, innovators, and peers from around the country.
A path to fast-track your business and career to success.

Click the link below to register.
Education and Certifications
Educational programs designed to inform member contractors on the latest issues and regulatory changes effecting their business.Training & Certifications for workers including technician, EPA & NATE certifications and apprenticeship.
Access to Leading Business Experts
RACCA has a large array of Associate member firms to support the Contractor's Business. They include top-notch suppliers & distributors of HVAC parts and equipment, insurers, attorneys and business management professionals.
Networking and Support Thru Contractor Members
Working together with our fellow members we learn from each other. This strengthens each of us, as well as the local industry. It serves to present a positive professional image to the public.
Benefits of RACCA Membership
Educational Seminars & Programs
Apprenticeship Program
Directories
On-line Services
Regulatory Representation
Industry "Public Relations"
Informative Meetings
Consumer Referrals
Annual Banquet & Awards
Annual Trade Show
Annual Golf Tournament
Annual Sporting Clays Tournament
Service Roundtable
State Association Membership Included (FRACCA)
"I graduated from the Apprenticeship program in 1999. My education has helped me enjoy a successful career in the HVACR trade. I am now a 3rd year instructor helping prepare our next generation of skilled workers."
"I have always counted on RACCA's Members & Association to be the leaders of our industry. The vast knowledge that they are willing to share has always been key for members to rely on."
"A great resource and organization dedicated to HVAC contractors and the needs of the industry. If you're an HVAC contractor contact them and see for yourself!"
Get Updates on Classes, Programs, and Events